Educational Workshop to make German banks become familiar with Iranian banks performance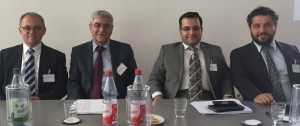 Last Thursday there was a one day workshop in Frankfurt with the aim of familiarizing German banking community with Iranian banks' performance. In this workshop two experts from Azmoon Pardaz Iran Mashhood Audit Firm were invited by AKA of Germany together with two Price water house Coopers (PwC) professional staff to present Iranian banking system operations & the various banking law & regulations governing Iranian Banks.
The other aspects which were discussed in this workshop were Iranian accounting standards applicable to banks, the structure & elements of these Banks' financial statements & the main differences of such standards with International Financial Reporting Standards (IFRS) which are now applied throughout European Union.
This work shop presentation was very well received by big German banks.
Among participants in this workshop one could see names including "Euler Hermes" Export Credit Agency of Germany, Dz Bank, Kfw Bank, the 3rd & 4th biggest banks in Germany as well as "Capital Intelligence".
It should be mentioned that the head of Iranian Central Bank also had a meeting with his German counterpart in addition to the above mentioned participant banks' Top managers & in these meetings the extent of bilateral cooperation between two countries & Removing the obstacles for Iran & German banking cooperation were discussed.
One of the major hindrances in banking relation of Iranian Banks with European Union banks have been the big differences between banking regulations & Accounting Standards used by European Union Banks with the Iranian Banks during the past 10 years & lack of understanding of European Union banks about Iranian regulations & Accounting Standards that are used by Iranian banks, which is expected to be overcome by such workshops.